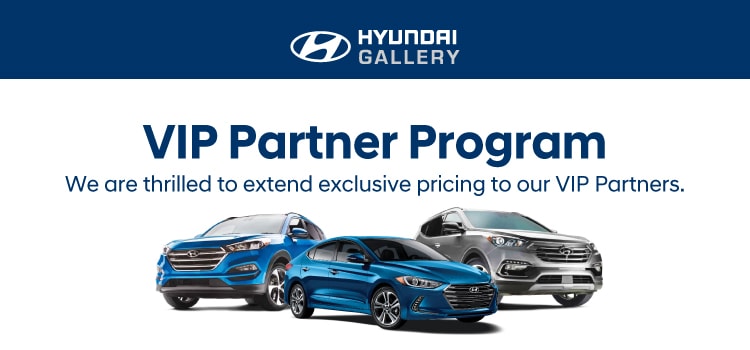 We appreciate the strong business partnership we have developed over the years and would like to take this opportunity to express our gratitude for your continued support.
*As an employee of a VIP Partner to Hyundai, you are eligible to purchase any Hyundai vehicle at dealer invoice price!
Plus, enjoy promotional finance/ lease rates, and all other incentive programs available at the time of purchase.

To take advantage of these incentives, please review the following program guidelines;
Step 1: Browse our vehicle line up and find the trim that is right for you.
Step 2: Be sure to visit our dealership with **proof of employment to verify your membership of Hyundai's VIP Partner Program. Hyundai Gallery will then assist you with detailed pricing information for your vehicle.
Step 3: Purchase or lease the vehicle of your choice, and enjoy your new ride!
*Please note there is a maximum $350 participant paid administration fee to the dealership. Offer applies to Hyundai Glovis Canada/Hyundai Mobis Canada/Hyundai Capital Canada/TD Bank Group/Royal Bank of Canada/ Scotiabank/LGM Financial Services Inc. **Proof of employment must include HR letter, business card and/or a recent pay stub. Certain conditions may apply. Please contact Hyundai Gallery for further details.