Off-Season Tire Storage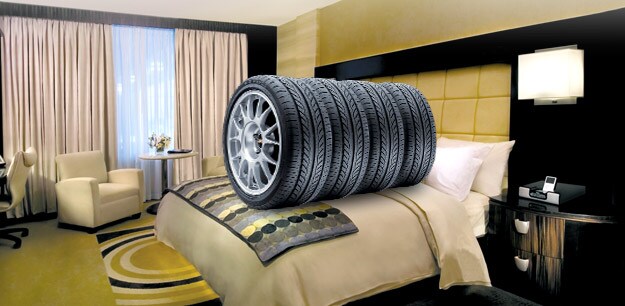 During the off season, let us take care of your tires.
Tires will be stored in a secure climate controlled warehouse.
Next Day Delivery to our dealership.

Every wheel and tire will be washed and inspected.

A picture of your wheels will be e-mailed to you to show condition and confirm storage.

Although the loss of rims and tires is very rare, in the event it does happen we will ensure brand new, like-for-like replacement.
Package 1 (per season): Swap and Storage - $139.95
We will fit your mounted wheels (rims) & tires and transfer the off-season wheels and tires to the Tire Hotel.
Package 2 (per season): Mount, Balance and Storage -$199.95
We will mount and balance seasonal tires to existing rims, and transfer the off-season wheels and tires to the Tire Hotel.
Package 3: Add a wheel alignment to either of the above packages for only $95.00
If you have any questions regarding this new partnership and these offerings, please feel free to contact me or a member of our service team and we'll be happy to help.
*While supplies last. Prices do not include installation. Please contact our
parts department
for more details.
---
Expect the Unexpected
Unexpected Value. Refreshing Experience.
It's our commitment to everyone that walks through the doors of Hyundai Gallery. We're here to make your timewith us hassle-free and enjoyable.
At Hyundai Gallery everything is up front, with no unwanted surprises. Hyundai Gallery is not your average dealership, so come see what Unexpected Value and a Refreshing Experience can mean for you.