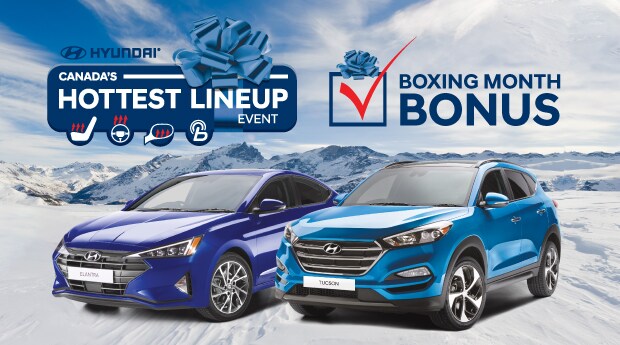 This month only:
Don't pay for 90 Days on select Finance purchases of new Hyundai vehicles*
Enjoy up to $1,000 Boxing Month Bonus on select Hyundai vehicles**
Receive 0% financing rates on select 2019 models***

*0 payments (payment deferral) for 90 days is available on finance offers of in-stock 2018/2019 Hyundai models. Payment deferral offer applies only to purchase finance offers on approved credit. If the payment deferral offer is selected, the original term of the finance contract will be extended by 2 months (60 days). Hyundai Auto Canada Corp. will pay the interest during the first 2 months (60 days) of the finance contract, after which the purchaser will pay all principal and interest owing in equal installments over the remaining term of the contract. Payments on finance contracts are paid in arrears. For finance contracts payable on a weekly and bi-weekly basis, purchasers who select the payment deferral offer may have to make their first weekly or bi-weekly payment sooner than 90 days from purchase. Down payments are not subject to the payment deferral offer and are due on the date the contract is signed. Hyundai Auto Canada Corp. reserves the right to amend or terminate this offer, in whole or in part, at any time without prior notice. Additional conditions and limitations apply. Ask your dealer for details. **Price adjustments are calculated against the vehicle's starting price. Price adjustments of $1,000 available on finance purchase only of new in stock 2018 Sonata models. Price adjustments applied before taxes. Boxing Month Bonus of up to $1,000 available on select in-stock 2018/2019 inventory vehicles only, on lease, finance and cash purchase. Bonus is applied before taxes. Offer is non-transferable and cannot be assigned. Model inventory for which the bonus is applicable may vary from dealer to dealer and from region to region. See your local Hyundai dealer for further details and applicable model inventory. ***Finance offers available O.A.C. from Hyundai Financial Services based on new in-stock 2018 Tucson 2.0L FWD/2018 Tucson 2.0L Premium FWD/2018 Elantra GT GL manual/2019 Elantra Essential manual/2019 Accent Essential manual 5-Door/2018 Sonata GL aut o/2019 Santa Fe XL Essential FWD models with an annual finance rate of 0%/0%/0.99%/0%/0.99%/0%/0.99%. Offers available for a limited time and subject to change or cancellation without notice. Vehicle color is subject to availability. Delivery and Destination charge includes freight, P.D.I. and a full tank of gas. Dealer may sell for less. Inventory is limited, dealer order may be required. Offer cannot be combined or used in conjunction with any other available offers. Offer is non-transferable and cannot be assigned. No vehicle trade-in required. Hyundai's Comprehensive Limited Warranty coverage covers most vehicle components against defects in workmanship under normal use and maintenance conditions. Certain restrictions apply. Customers must present their proof of Military relationship and I.D. at time of purchase to receive a special price discount off their purchase. Program subject to change or cancellation without notice. Offers expire January 2, 2019. Visit Hyundai Gallery for details.