Special Pricing + Rebates on Winter Tire Sets

Get ready for winter and winter driving! Now is the time to think about road safety on the snow and ice. Check out these impressive snow tire deals from Hyundai Gallery, only available for a limited time.
Tire Specials
Here's just three great tires we recommend:
Uniroyal Tiger Paw

Ice & Snow




P185/65R14

Starting from

$86.99 each*

BF Goodrich

Winter Slalom




P195/65R15

Starting from

$111.06 each*

Michelin X-Ice

Xi3




P175/75R14

Starting from

$114.70 each*
In addition to these competitive prices, manufacturer mail-in rebates are available ranging from $30 - $80 per set of 4 tires. Rebates are valid from October 5 to December 15, 2015.
Steel Winter Tire Packages
Packages starting from $791.07 (P185/65R14 Uniroyal Tires), and include Winter Tires, Steel Rims, New Valve Stems, Wheel Nuts, Mounting & Balancing and all Taxes.

We have a new Premium silver steel rims for selected Models, also at a 15% discount.
Book Your Appointment Today
Call us at 1 (888) 806-3155
Off-Season Tire Storage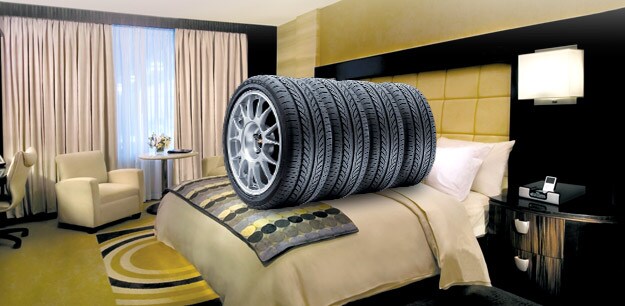 During the off season, let us take care of your tires.
Tires will be stored in a secure climate controlled warehouse.

Next Day Delivery to our dealership.

Every wheel and tire will be washed and inspected.

A picture of your wheels will be e-mailed to you to show condition and confirm storage.

Although the loss of rims and tires is very rare, in the event it does happen we will ensure brand new, like-for-like replacement.
Package 1 (per season): Swap and Storage - $139.95
We will fit your mounted wheels (rims) & tires and transfer the off-season wheels and tires to the Tire Hotel.
Package 2 (per season): Mount, Balance and Storage - $199.95
We will mount and balance seasonal tires to existing rims, and transfer the off-season wheels and tires to the Tire Hotel.
Package 3: Add a wheel alignment to either of the above packages for only $95.00
If you have any questions regarding this new partnership and these offerings, please feel free to contact me or a member of our service team and we'll be happy to help.
*While supplies last. Prices do not include installation. Please contact our
parts department
for more details.